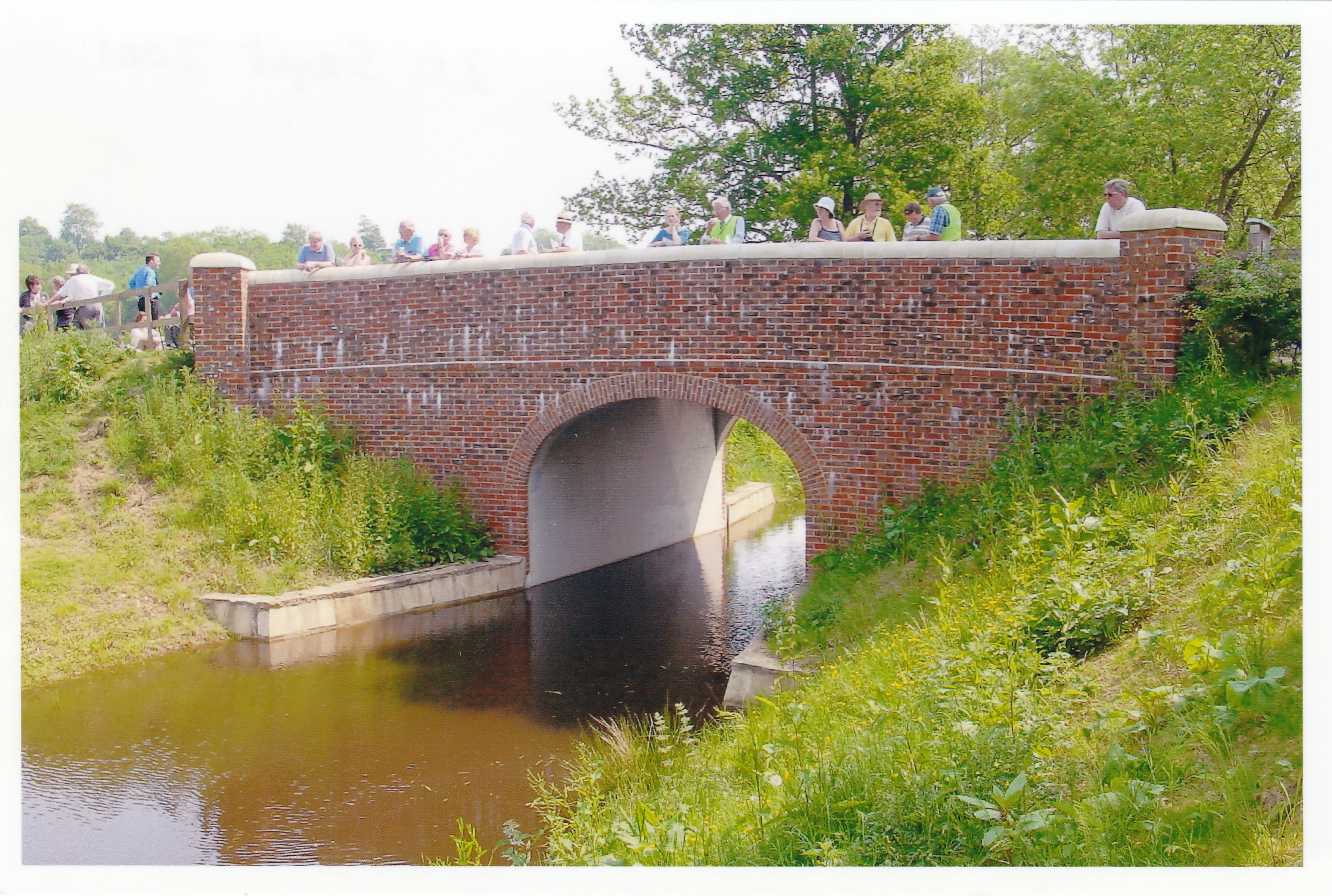 You are now at the Drungewick Lane bridge which was completed in 2001 and the design is based on Josias Jessop's original plan.  The original bridge was opened in 1816 serving the Canal Company until the canal was abandoned by an Act of Parliament in 1871. It then remained in place for the next thirty-four years, to be destroyed in 1905, ostensibly for flood relief measures, although the remains of the aqueduct were not removed until 1958 for the same reason. About a century to get a replacement bridge back into place!
Who was Josias Jessop  ?
Josias Jessop (1781 -1826) was responsible for surveying and designing the Wey & Arun Canal. His more famous father, William Jessop, was the surveyor for several important canal projects in the Midlands.
Restoration
The bridge site was cleared down to solid ground in 2000. This revealed the remains of the original bridge, but not enough to be of interest and it had to be cleared away.  The bridge constructed by a contractor required 133 tonnes of concrete to be poured. The road causeways were made; brick facings were applied, including the parapets, giving the appearance of a brick-built bridge. Volunteers made and placed the coping stones for the parapets and cap stones for the piers and they erected the fencing and gates. The bridge was  reopened in 2001.
With the aqueduct open the bridge performs its true function of allowing boats to pass under Drungewick Lane to reach the Long Meadow winding hole, so extending the enthusiasts cruise by another half mile.
This section of the cut had received much attention from the various work parties, mainly in the form of vegetation management to keep the water open as much as possible. Leaks were plugged and reprofiling was carried out whenever possible, ready for the day that boats could navigate the section. This became a reality when the Drungewick Lane Bridge and the aqueduct were restored.
Flora and Fauna
If you will spend a few minutes looking into the water you will see that there are many fish present; these are the increasing legacy of the stock that was introduced by the local angling society. They are part of the food chain that maintains the wild life in this area, as well as providing game for the many anglers that come along to spend time on the banks of our beautiful canal. They also feed our resident kingfishers so look out for a flash of blue !
Next Information Posts
If you continue your walk across the bridge and Drungewick Lane you will find the next Information Post at Drungewick Lock and winding hole.
If you are heading towards Loxwood, the next Information Posts are a short distance away at Drungewick Aqueduct and Drungewick Slipway.