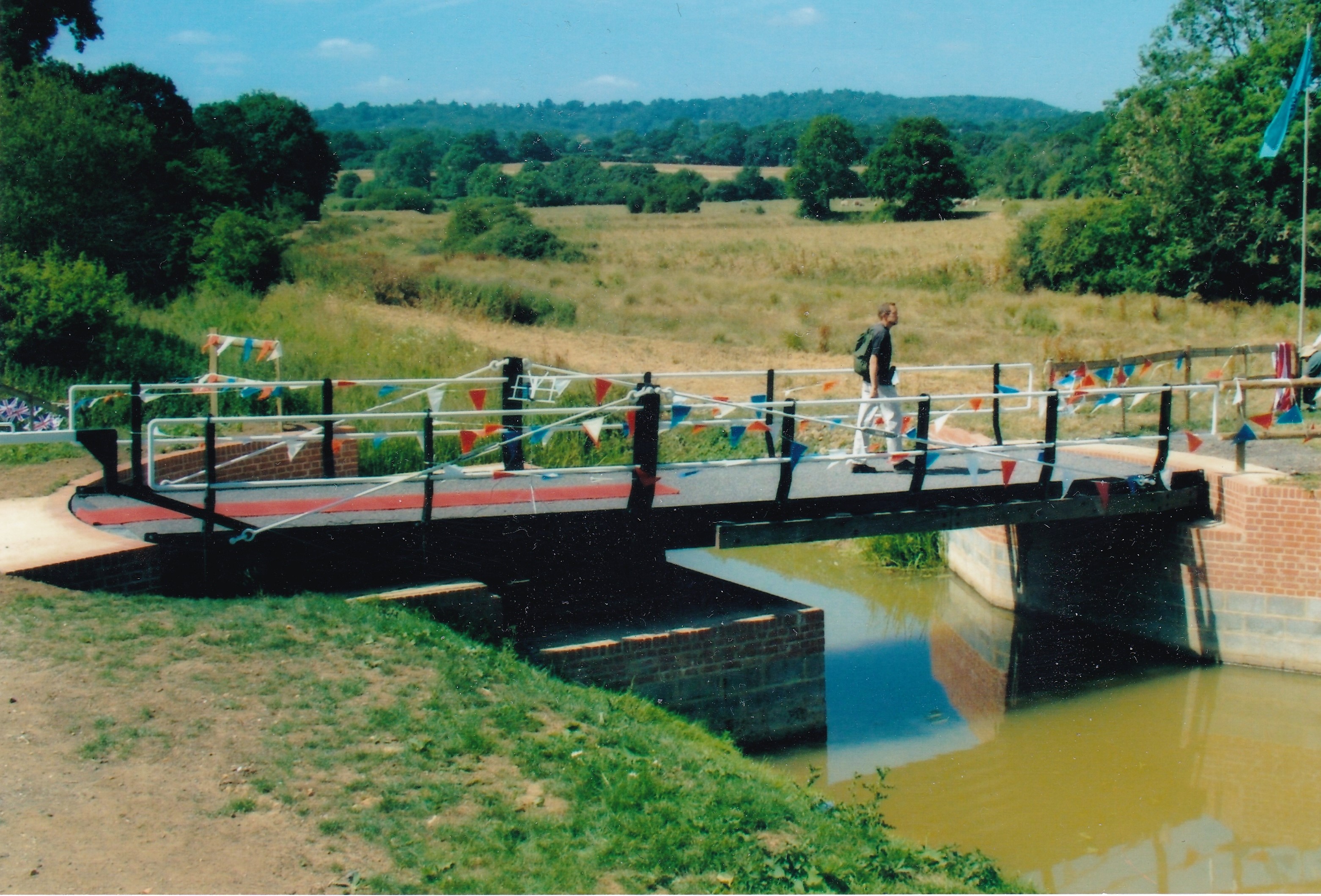 This is Haybarn Swing Bridge. It wasn't here in the old working days of the canal but was brought down in 2005 from the Leeds and Liverpool Canal to replace a fixed concrete farm bridge. It is a welcome addition and is a big contrast to our lift bridges further up the canal.   The picture at the top of this page was taken in July 2005 when the bridge was formally opened. This site is the crossing point for several footpaths and we are very grateful to the landowner for giving permission for the bridge to be installed in this location.
We are now in prime agricultural country and in the days of the working canal, wheat, barley and other agricultural produce would have been carried from farms like this to outside markets, while fertilisers and general goods would have been brought in. Other barges would have passed through taking coal up to Billingshurst and Cranleigh and chalk up to the lime kilns at Newbridge and Shalford. Timber, stone and produce from other farms would go down to Arundel for trans-shipment into larger vessels.
Look out across the fields - that view is just wonderful: rural, natural, quiet. And others have thought so as well. Somewhere over there, hidden in the trees, is a little cottage called Brinkwells. Sir Edward Elgar stayed there for three years convalescing after an operation and he wrote a number of orchestral works from there looking out over this beautiful landscape. Later on, Robert Walker, another composer, spent 14 years there writing mainly choral works.
The fields make for a lovely wide-open vista but they also form a flood plain and many a time the River Arun swells up turning the whole area into a vast lake.  Hopefully you have chosen a dry-spell for this visit !
Flora and fauna
Keep an eye out for birds of prey frequently seen in the wide-open skies above Haybarn. Buzzards, Kestrels and Red Kites are often spotted soaring over the canal looking for their next tasty morsel: a vole or a shrew, smaller birds or carrion.
For flowers, look out for:
In spring: Ribwort Plantain and Primrose
In summer: Ragged Robin and Common Rush
In autumn: Sun Spurge and Sow Thistle.
Where can you find the next Information Post  ?
Heading north from Haybarn, you will find our next Info Post at Harsfold Bridge near Lee Place. It's approximately ½ mile North along the Wey South Path but the walk is lovely and you will see the results of the Wey & Arun Canal Trust's hedgelaying team along the towpath, part of the push by the Trust to keep the canal path open and tidy for all.
A full list of information posts can be found here.