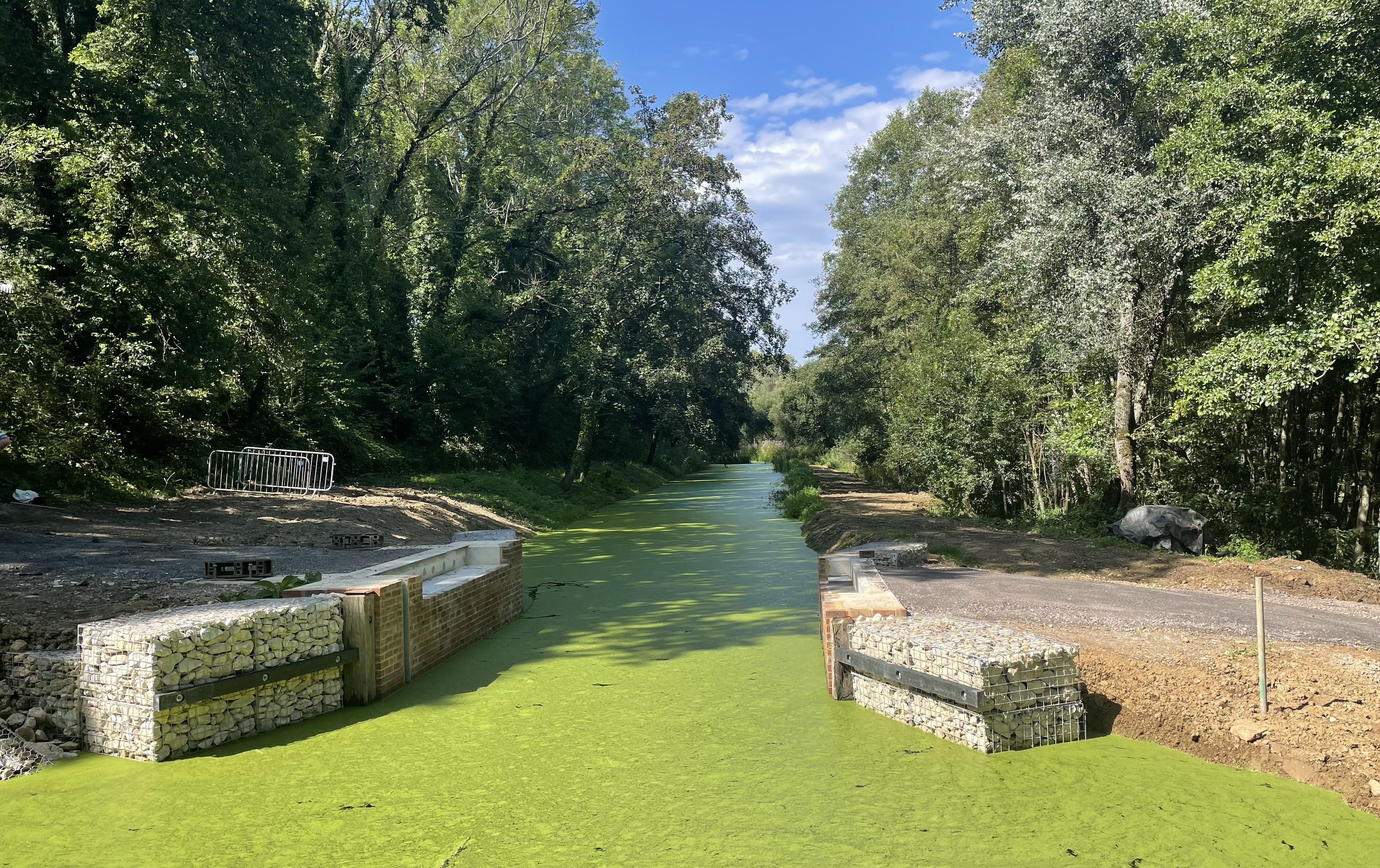 The (re)opening of this newly-restored 900m section is imminent with the lifting bridges scheduled to be installed in September. The new section butts up to Bramley from where a fresh route north will be needed, to reconnect with the Wey at Shalford, replacing the old alignment lost under newer developments.
While it will therefore remain detached from the Wey as well as from other restored sections around Loxwood and Dunsfold, it will offer fresh leisure opportunities in its own right for walkers and paddlers. Together with some desilting, our two new lifting bridges will fully restore navigation. We have maintained the canal at Birtley in good condition, but it was crossed by two infilling causeways, both of our own making.
At the southern Birtley No 1 Bridge, our temporary causeway had already been removed some time ago. It was replaced with a temporary bridge deck laid across the completed substructure. To give access for installing the lifting mechanism and deck, this in turn was removed and replaced with a parallel temporary pedestrian scaffold bridge across the canal itself, immediately to the north - which in turn will then be removed, leaving the completed lifting bridge as the fourth (and final) canal crossing there. To the north, Birtley No 2 lifting Bridge is on the site of Josias Jessop's original swing bridge. Once again, we had put down a causeway immediately to the south, to maintain the east-west right of way while the new bridge substructure has been built. That too will be dug out to restore the through-navigation in due course.
 The bridge substructures were the product of four years of ceaseless volunteer labour, even including the relocation of a gas main under the canal at No 2 Bridge. Most of the lifting superstructure elements, costing £150,000+ of our funds, have been manufactured by Beaver Bridges Ltd, at their Wigan factory. However, their heavy concrete counter-balance beams were cast by EWG volunteers at Tickner's Depot, and then sent off to Beaver for trial operational tests before installations at Birtley begin. The default position of the installed bridges is 'down', but the beams mean that lifting and lowering the bridge will require a minimum of effort.
If the Birtley section will be available only for small boats, why are we installing lift bridges now?
By law, and as enshrined in the Planning Permission, we have to maintain the right of way across the canal at the northern bridge, and the southern bridge gives the riparian landowner access to the west side. The water level at Birtley has been kept deliberately low until now. Restoring the proper navigational depth will mean that there would be insufficient air draft under any temporary fixed structure across the substructures at the two locations, even for kayaks and canoes, so lifting structures are needed from the outset. They are durable, unlike perishable wooden lock gates which we hold off installing at restored locks until navigation becomes possible.