Welcome to Rowner Lock, lock number 1 on the Wey and Arun Junction Canal. Up as far as Newbridge, the Arun Navigation opened in 1787, bringing goods from Arundel and the coast up to the wharves at Newbridge for trans-shipment into horse-drawn carts to go up to Billingshurst and the surrounding villages: coal and groceries and other essential goods.
North from Newbridge, the Wey and Arun Junction Canal opened in 1816 to link the Arun Navigation with the River Wey south of Guildford, so providing an inland waterway route from the south coast to the capital, opening up towns and villages along its line in the process.
Locks such as this one at Rowner were a way of raising the height of the canal. At Newbridge, the canal is 39 feet above sea level and a series of sixteen locks raised the canal to a height of 163 feet at its summit level near Alfold near the Surrey /Sussex border after which it descended again down towards Guildford.
Restoration of the Canal
Rowner Lock is dear to the heart of the Wey and Arun Canal Trust which is aiming to restore the old canal for canoes and other small craft but also as a green corridor for walkers and riders through these beautiful parts of the countryside. Rowner Lock was the scene of the  Trust's very first working party on March 28th 1971. The section from Rowner down to Newbridge was the pilot for the restoration project. The lock and its associated bridge were restored over a considerable time period, the work being completed and the restored lock first used in 1982.   The picture below (taken in 1961) shows the state of the bridge before restoration,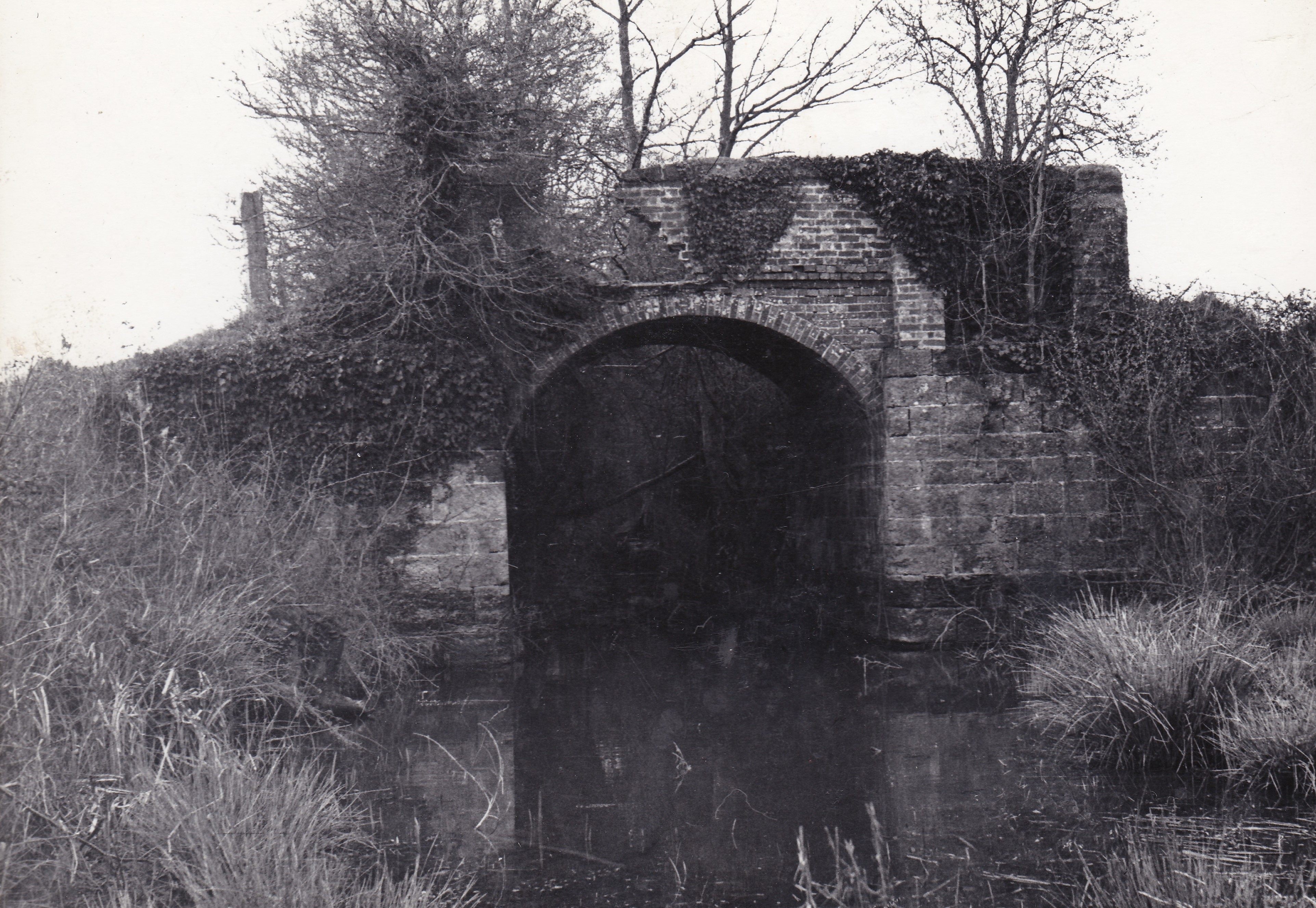 Flora and Fauna
Just up from the canal was the old Rowner Mill, using the power of the River Arun to grind corn into flour. The surrounding fields would have provided the raw material and would also have been, and still are, ideal habitats for animals and birds. Keep your eyes open for corn buntings coming out of the fields and for herons tracking the course of the river and the canal looking for fish; also for dragonflies darting to and fro. For flowers, look out for:
In spring: Marsh Marigold and Garlic Mustard
In summer: Black Knapweed and Water Mint
In autumn: Greater Plantain and Meadowsweet.
Next information Posts
Heading south from Rowner Lock, our next Information Post is at Northlands Lift Bridge (about a third of a mile away). That is a lovely walk with the River Arun meandering back and forth along the straighter line of the canal
Heading north, the next information Post is at Loves Bridge (also  about a third of a mile away)  through beautiful open countryside.