As we restore the canal, we welcome all canoes, kayaks, paddleboards and other unpowered craft to use it. Currently you are invited to enjoy the canal at Loxwood, West Sussex, between Drungewick Lock and Southland Lock. As more of the canal is restored we plan to extend the stretches available. 
We especially welcome scout and other youth groups. A group licence may be purchased using the link below, or contact events@weyandarun.co.uk for further information.
Please give us some warning of your visit, especially if you are a club and are intending to bring a number of canoes. We operate trip boats on the canal and it is important that you know of each other's presence. 
The map shown below shows where you can park and board safely. Please use care and portage around locks, which you are not permitted to use.
Due to summer conditions and lack of rain, please note that the section from Brewhurst lock to Drungewick slipway is currently low on water. Please check with the canal centre for the latest information but presently all our boat trips and canoeing visitors are asked to use the section from Brewhurst lock up to Southland lock where water levels are good.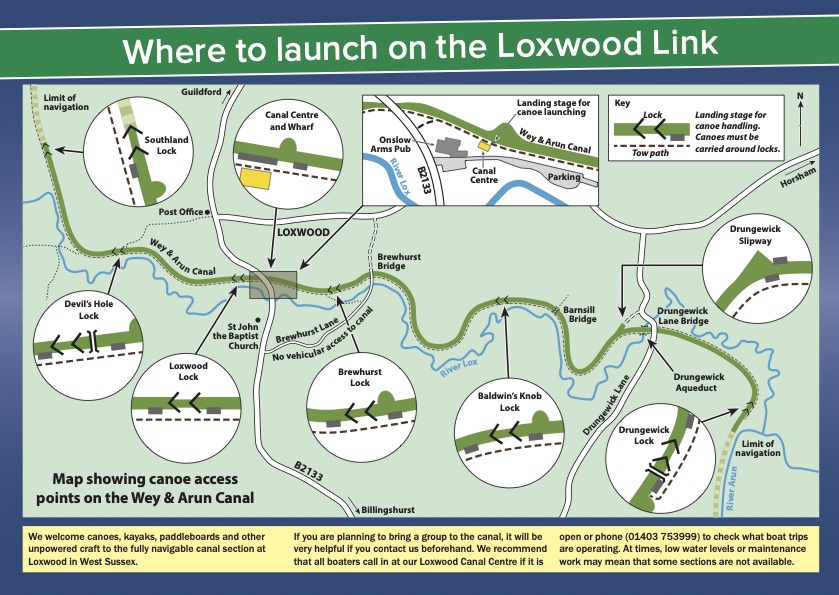 Any instructions given by the Trust whilst using the canal (including the slipways and landing stages) must be accepted.
Download a leaflet & map of the canal
---
GROUP LICENCES
We welcome groups using the Canal. Please take out a licence for the number of boats/craft which you will be bringing.
Buy a GROUP Licence - please email support@weyandarun.co.uk if you would like to buy a Group licence
---
LICENCES
A Licence is required for each unpowered vessel including all rigid and inflatable craft, canoes, kayaks, rowing boats and paddleboards used on the Canal, unless the user is a British Canoeing Member, and our Terms & Conditions apply to anyone using a craft on the canal. 
If you need a licence use this link
---
BOOKING A VISIT
Please use this link to let us know when you will be using the canal - this helps to ensure your safety, and that of other users.
Please be sure ALL craft you are using are covered either by a Wey & Arun Licence or BC Membership before booking a visit
---
CHECK-IN
Please call into our Canal Centre at Loxwood (situated behind the Onslow Arms) to check-in and they will be able to update you on the day's activities. Opening times here