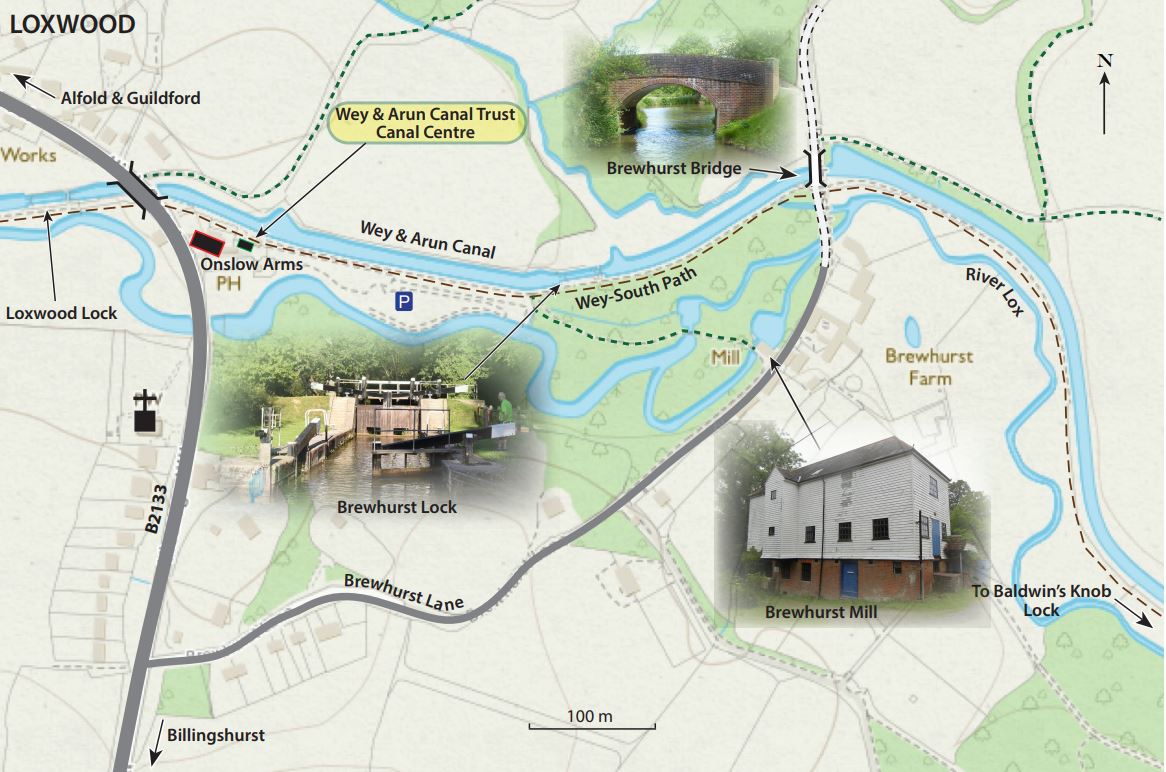 You are now at Brewhurst Lock, well away from houses and right out in the countryside. In spring and summer you will hear nesting birds all around and you might see deer jumping through the adjacent fields. Keep your eyes open and you will notice lots of wild flowers. In summer months look out for butterflies around here: Red Admirals and others are often seen. Also look out for birds: tree creepers are not very common but sometimes can be seen creeping up around a tree looking for insects. Jackdaws are more common. One year, during October a jackdaw was seen entering a hole in an oak tree at Brewhurst. It then came out of the hole with some old nesting material - recycling at its best!"
If you continue along the canal (away from Loxwood) you will shortly cross Brewhurst Lane where the canal passes under Brewhurst Lane Bridge.  Brewhurst Mill, a short distance up the lane, dates back to 1554.
When was this lock restored ?
Brewhurst lock itself has actually undergone two separate restorations. The first started in August 1994 and was completed by March 1997 with the lock restored to its original dimensions of 68 feet x 12 feet. It was both difficult and costly to obtain stone from the original quarries, so over 600 look-alike concrete blocks were made. Because the concrete mix contains small particles of sandstone obtained from the original quarries, it is now hard to tell which are original blocks and which are the 'look-alikes'. Restoration included the installation of lock gates and an electrical back-pumping system for canal water.
As part of the lowering of the Onslow Pound by 4.6 feet (1.4 metres) to accommodate the new Loxwood Bridge, Brewhurst Lock had to be reconstructed again in 2006. Its fall was reduced to 2 feet (0.6 m) from the original drop of 8 feet (2.4 m), allowing the level of the water in the pound to be lowered under the new Loxwood road bridge. At the same time the lock was lengthened to the national standard of 72 feet (21.9 m) and the walls of the lock were lowered by about 1.4 metres at its head. The rebuilt lock became operational in November 2006.
What did Brewhurst Lock look like before the restoration ?
If you were standing here in 1977, you might have seen children exploring a dry and very overgrown ruined lock!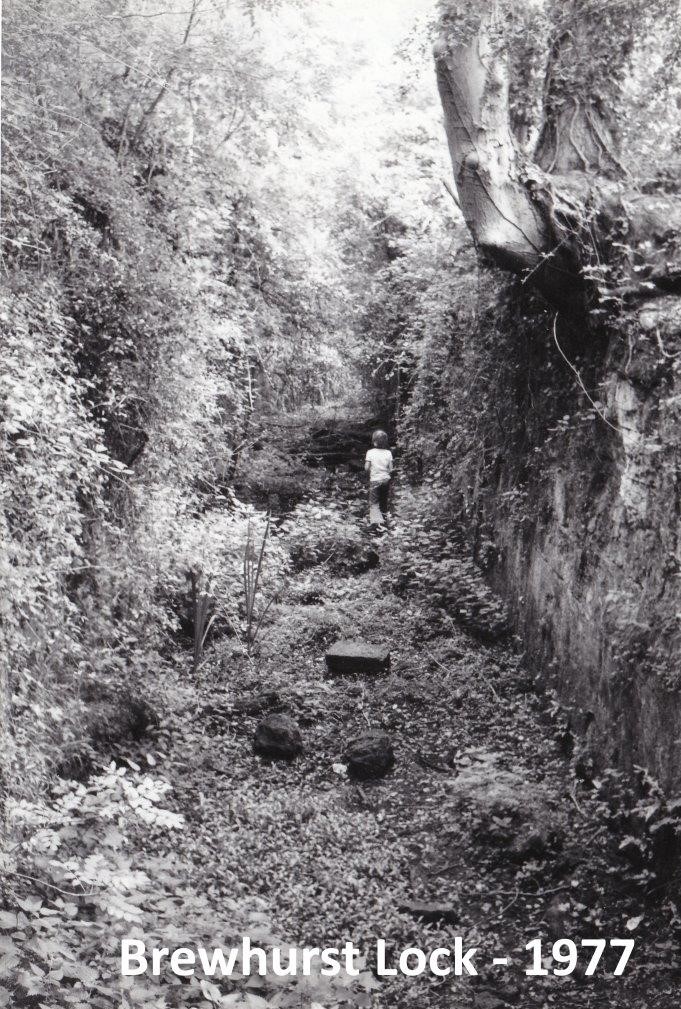 Did you spot the milepost alongside the footpath? 
Find the milepost bollard to see how far you are from the Rivers Wey & Arun 
In what year would you have seen the canal at its busiest ?
Following the Industrial Revolution, commercial trade on the canal gradually increased, with 23,000 tons carried at its peak in 1839. However, the railways were becoming established as the new form of transport and that eventually led to this canal being abandoned in 1871.
Where can I find the next Information Post ?
Heading away from Loxwood, you will find the next Information Post at Baldwins Knob Lock (1/2 mile) or if you heading towards Loxwood continue under the road bridge to Devil's Hole Lock  (just over ½ mile).
For a full list of Info Posts , click here
Want to explore more of the canal and complete a circular walk ?
Try out this circular walk taking in Baldwin's Knob Lock and Drungewick Aqueduct and returning in a figure of eight via pretty fields and woodland.
Loxwood_Walk_3_Web_2023.pdf (weyarun.org.uk)