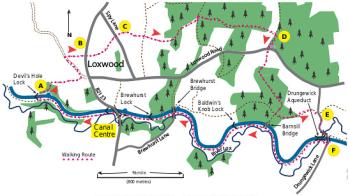 The route of this walk begins and ends alongside the restored Loxwood Link section of the canal and circles out to the north of the village, taking you through ancient woodland and out over open land with fabulous views.
From the Canal Centre, walk west along the towpath passing the Onslow Arms public house on your left. Pass under the Loxwood High Street road bridge, which was built in 2008, to reach Loxwood Lock. The Wey & Arun Canal Trust built the lock and the horse bridge during 2005 to 2006 as part of the project to reinstate the canal under the High Street.
Walk along the bridleway towpath for ½ mile to reach Devil's Hole Lock (A) which was reopened by the Trust in 2010.
At the lock, cross the bridge to head up the footpath via a kissing gate away from the canal into woodland. Emerging out into a field, walk along its edge to reach houses left and right, continue ahead, shortly to reach another bridleway, turn left, away from the village, and after 250 yards, take the footpath to the right, then turn immediately left, ignoring the style in front of you, follow the path around the field and then between high fencing to reach the road (B).
Cross over the road to the hard wide footpath opposite and stay on this as it swings left, close board fencing on your right, to reach and cross Spy Lane (C). Cross the stile and walk ahead, soon emerging into an open field. Stay ahead and at the top of the field maintain your direction to walk down alongside the hedge in the next field.
Cross the stile into another field to soon enter the woodland via a plank bridge.