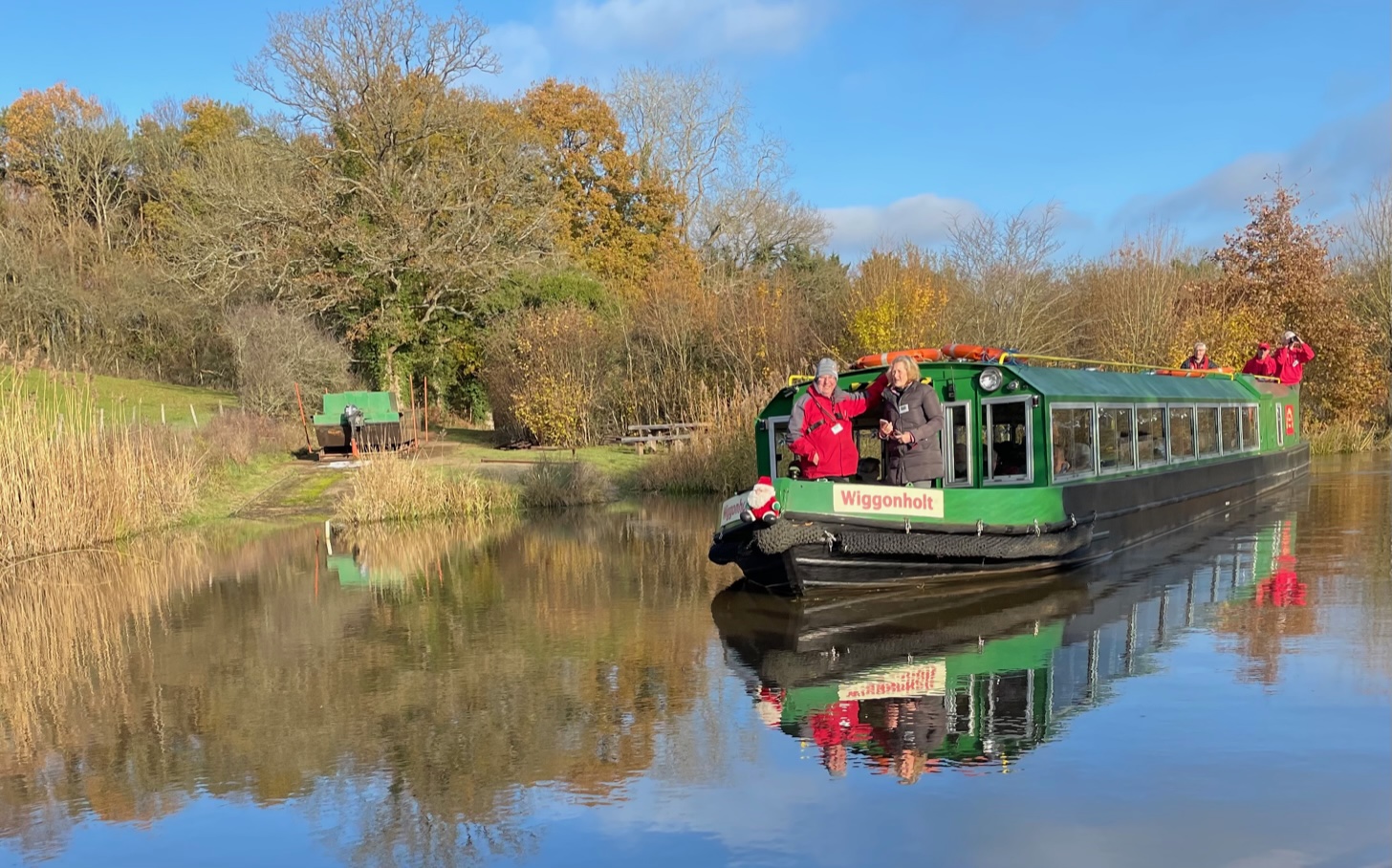 This must be one of the most amazing parts of the restored canal: there's the aqueduct, there's the slipway and there's the heavy vehicle crossing for the Environment Agency – all within a few yards.
​A new slipway was built into the winding hole near the aqueduct on the site of the original canal-side wharf.  There are in fact two slipways - one with rails, that allows boats to be hauled up for inspections and maintenance and a seconfd slipway to permit visiting canoes and kayaks to be to be launched onto the canal. Roger Dimmick left a legacy for building this slipway and the lane leading up to it is named in his memory.
When the old canal was still working, the original little wharf here would have brought fertilisers and other things into the local farm and would have taken farm produce away to markets up in Guildford and London.
Looking today at this scene of rural idyll, it is easy to forget the enormous effort by volunteers from the Wey & Arun Canal Trust that has gone into restoring this area in the past few years to provide such a lovely locale.
Sometimes when you are walking along here, you might see one of our tripboats taking passengers down to Drungewick Lock and then back up to Loxwood. Give them a wave and perhaps book yourself a seat on a trip sometime soon: we would love to see you.
Flora and Fauna
Look out for swans or a herons flying over here and dragonflies and damselflies darting across the water – and water boatmen 'walking the water'. You will see lots of brambles along the towpath giving their sumptuous crop in the autumn and lots of wild flowers in season.
Next info Posts
Heading south from here you will see quickly see two further Information Posts by the Aqueduct and Drungewick Lane bridge.  If you walk a further ½ mile away you will reach  Drungewick Lock but that is the end of the restored section of canal at present. We are hoping to go further in the future, all the way through to Newbridge and beyond.
Heading north, the next information Post is at Baldwins Knob Lock. Again, it's not far away but it's a beautiful stretch of the canal, especially when the sun is glinting through the leaves of the overhead canopy.
Whichever way you go, we hope you have a lovely walk.
A full list of Information posts can be found here.
If you have walked from Loxwood, you can complete a circular walk - see the route of a suggested walk here.